The Former Chilean ambassador to China Visit China Social Sciences Press
On the morning of May 19th, Mr. Fernando Reyes Matta, the former Chilean ambassador to China, visited Chinese Social Sciences Press. The deputy editor in chief, Ms. Guo Yiwen and the collages from the international cooperation and publishing center attended the meeting.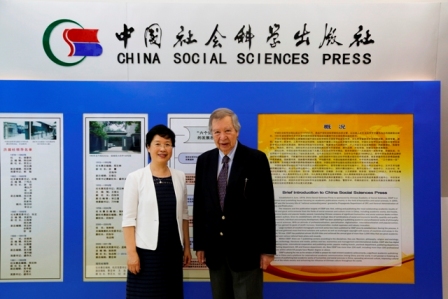 Ms. Guo Yiwen first on behalf of the president and chief editor Mr. Zhao Jianying expressed warm welcome to Mr. Reyes's visit to CSSP. Then she introduced the current situation, the influence at home and abroad, as well as the external exchange and cooperation in recent year of CSSP to Mr. Reyes. Ms. Guo Yiwen also said that at present the publishing cooperation with the Latin American just began, but the Chinese Social Sciences Press has been very focused on Latin American Studies and has published many books about it. Now, we have already established the strategic cooperative relations with the Institute of Latin American Studies of CASS, their Latin American Studies Series and Latin American Translation Series are all published by CSSP. In this year, CSSP will also launch the biography of the Chilean President Verónica Michelle Bachelet Jeria, and the "China Insights" series are also being in translation into spanish. Ms. Guo Yiwen expressed the hope of the further strengthening cooperation with Latin America in order to promote the cultural and academic exchanges between China and Latin America.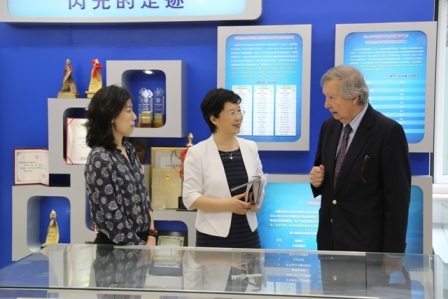 After listening to Ms. Guo Yiwen's introduction, Mr. Reyes expressed his great admiration for the academic influence at home and abroad of Chinese Social Sciences Press. Mr. Reyes has a deep origin with China, as early as in 1973, he visited China as the diplomatic officer, and was received by Premier Zhou Enlai. Mr. Reyes also attended the Boao Forum on behalf of the President of Chile and got to meet Chairman Hu Jintao. Mr. Reyes has always been highly concerned about the development of China, and has a strong interest especially in the history of thought and philosophy in China. As a diplomat and scholar who focus on Chinese studies all year round, Mr. Reyes has spared no efforts to actively promote exchanges in all aspects of the two areas. He thought, the people in Latin American has very limited understanding about China, they haven't have the effective way to get the information about the great changes in China's society.Mr. Reyes wants to make the Latin American people see the rapid development of China from all the directions and with multi perspectives, because China's changes should and must be seen by the world.
During the meeting, Ms. Guo Yiwen and Mr. Reyes discussed and exchanged which needs and interests about China are most concerned for the Latin American people, Mr. Reyes hopes to spread more and more Chinese excellent works to Latin America, for the academics, politicians and even the public.